Crawfish Boil Recipe
Turn A Party Into An Event With A Crawfish Boil!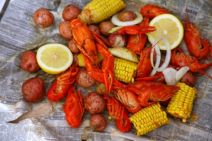 A Crawfish Boil Recipe can bring family and friends together with the sole of purpose of eating and having a good time.
Turn your next family gathering into an event with this recipe.
Growing up in New Jersey, I had never seen or heard of a crawfish.
My favorite foods, however, were shrimp and lobster. Image my delight when I discovered the crawfish. It has now become one of my favorite foods. It can be eaten so many ways.
Please try any of the other crawfish recipes found at Cooking New Orleans Style. They are absolutely wonderful. One of my favorite ways to eat crawfish is boiled and one of my favorite times is during a crawfish boil!
Before attempting this recipe, make sure you have invested in the proper pot. A crawfish pot must be large with a basket insert. You will also need a large outdoor high-pressure propane cooker. These can be rented.
Ingredients
10 gallons water
6 gloves garlic
10 lemons cut in half
7 large onions, chopped coarsely
1 celery, chopped coarsely
10 bay leaves
2 bags crab boil
2 boxes salt
2 cups cayenne pepper
2 cups black pepper
5 pounds red or new potatoes (washed but not peeled)
15 to 20 ears of corn broken in half
1 - 2 pounds smoked sausage, cut up into large pieces
1 sack (35 to 40 pounds) LIVE crawfish well rinsed in cold water
Directions
Clean crawfish. Crawfish must be kept alive and cleaned thoroughly until you are ready to boil. Soak in cold water for about 10 minutes. Discard any dead crawfish before cooking.
In a very large pot (60-80 gallon fitted with a strainer insert), fill halfway with water.
Bring to boil over a large outdoor burner over high heat.
Squeeze lemons into water and add garlic, celery, bay leaves, crab boil, salt, and peppers to pot.
Cover pot, bring to a boil and let seasonings blend for about 2-4 minutes.
Add potatoes, onions, sausage and corn to basket insert. Let water come back to a boil, cook for about 10-15 minutes until potatoes are tender.
Add crawfish, return to a boil, cook for 4 minutes only! Turn off burner, let soak for 20-25 minutes.
Remove basket and let crawfish and vegetables drain.
Dump all the goodies on tables covered with newspapers.
Enjoy!
Tips
Plan on 2 to 3 pounds of crawfish per person. In my family, the number is closer to 4 pounds.
Use a crawfish boiling pot that contains a basket insert for ease of handling.
---
If you liked this Crawfish Boil recipe, look here for other free seafood recipes!

Return from Crawfish Boil Recipe to Cooking New Orleans Style