Mardi Gras Celebration
Mardi Gras Celebration is quickly approaching.
I have included this non-recipe page as an overview of this great festival.
I invite you to learn more about the New Orleans Carnival!
For more detailed Mardi Gras facts, please visit Mardi Gras History.
History of the Celebration:
The ancient Romans celebrated in mid February a circus like festival similar to the Mardi Gras celebration we enjoy today. Carnival evolved into a time of eat, drink, and be merry before the fasting ritual of Lent begins. The partying is scheduled to soon begin and we want to help get you ready to party!
In 1857, the first Krewe was born. The Comus organization showed Mardi Gras to be a safe and fun event for all to attend. Comus began the tradition of secret Carnival societies, parade floats with unified themes, balls held after the parades, and naming the Krewes after characters from mythology.
Doubloons:
Part of the excitement of attending a Mardi Gras Celebration is catching the doubloons, large colorful coins tossed out by the Krewes riding on the floats down to the excited crowds. Doubloons display each Krewe's name, emblem, and founding date on one side, the year and theme of the ball and parade on the flip side.
Throws:
Since the 19th century, beads and novelties have been thrown from floats to parade-watchers lining the streets. Until the 1960s, the most common seen throws were multi-colored glass beads. Durable plastic beads replaced these. Metallic beads and strings with figures of people and animals were some of the sought-after throws.
With the arrival of the 21st century, Krewes began throwing limited edition beads and toy items unique to their Krewe. LED-powered surprises and fiber optic beads are now tossed out to draw a crowd. As history repeats itself, glass beads are making a come back as one of the most popular parade throws.
Parades: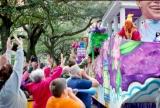 There is on average at least one parade every night starting two Fridays prior to Mardi Gras. When the big day rolls around, the Zulu parade gets the ball rolling, followed by the Rex parade, with both parades ending on Canal Street. A number of walking clubs and smaller parades make their way to the French Quarter accompanied by a minimum of one jazz band.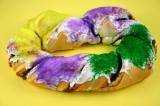 In 1871, the Twelfth Night Revelers began the custom of presenting a young woman with a golden bean hidden inside a cake. This lucky young lady was the first queen of Mardi Gras, beginning the symbolism of the king cake.
Traditional King Cake is an oblong and braided coffee cake. It is iced and covered with purple, green and gold sugar. Each cake contains a bean or small plastic baby representing Christ. It is customary for whoever receives the piece of cake with the hidden surprise to provide the next King Cake. These days, king cakes come in a wide variety of fillings from pineapple to chocolate.
Colors: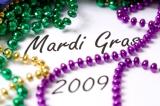 In 1872, Rex made his grand entrance as the King of Carnival. Rex debuted the official colors of Mardi Gras: purple, green, and gold. The meaning of the colors is purple stands for justice. Green represents faith. Gold is a symbol for power.



Floats:
Every Mardi Gras parade has a theme, usually taken from Hollywood, history, or mythology. Most parades have mock royalty picked from the ranks of the Krewe or celebrities. Depending on the size of the parade, you will see ten to forty floats go by with carrying Krewe members, dance groups, marching bands, and characters in costume. With the exception of signature floats, all parade floats are hand-painted and redesigned every year according to the annual theme.
Each year since Hurricane Katrina blasted through town, the determined folks of New Orleans have stood firm that a Mardi Gras Celebration will return larger than life. Mark your calendars for February 24, 2009 to take part in a celebration like none other on Earth that has endured much and still holds everlasting appeal.
If you are fortunate enough to attend Mardi Gras, you will want to try some of these Cooking New Orleans Style Recipes . If you have never attended Mardi Gras, sample some of the recipes. Then you will definitely want to attend the next Mardi Gras!
Mardi Gras King Cake Recipe

Return from Mardi Gras Celebration to Cooking New Orleans Style Home