King Cake Recipe
Create a Traditional Mardi Gras King Cake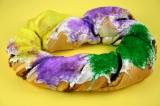 A King Cake Recipe does not have to be difficult.
King Cakes are as deeply entwined with the traditions of New Orleans and Mardi Gras as parades, Bourbon Street, and jambalaya. Join in the Mardi Gras celebration with this colorful dessert.
Tradition states that if you find the hidden prize in the cake, you will have good luck and must host a Mardi Gras celebration next year and furnish a new King Cake for guests to enjoy.

Ingredients
1 envelope active dry yeast
2 tablespoons warm water
1/4 cup warm milk
1 stick butter, cut into small pieces
4 eggs
3 cups flour
3/4 cup sugar
1/4 teaspoon salt
1 teaspoon nutmeg
2 teaspoons cinnamon
2 teaspoons melted butter
sugar colored with food coloring for decorations
1 extra small plastic doll
1 teaspoon water
1/2 cup powdered sugar
Directions
Dissolve yeast and warm water in a small shallow bowl.
Cream butter, eggs, sugar and salt in a large mixing bowl. Gradually add milk and 1 cup flour. Add yeast. Add remaining flour,nutmeg and cinnamon. Continue mixing until a medium soft ball is formed.
Shape dough into a ball, brush with melted butter, and cover. Let rise until ball has doubled in size. This will take about 2-3 hours.
When dough has risen, place on lightly floured surface. Flour rolling pin. Kneed and roll dough until it forms into a 4 to 5 foot long rope. Insert the doll anywhere in the dough. Shape into an oval by twisting the rope and connecting at the ends. Place covered dough ring on an greased cookie sheet and let rise until it doubles in size again (about an hour)
Preheat oven 350 degrees. Bake for 30 minutes or until golden brown.
When cake cools, make glaze by combining powdered sugar with water. Brush cake lightly with glaze (just enough so that the sugar will stick). Sprinkle cake with colored sugars. Drizzle remaining glaze over cake. See picture.
Return From King Cake Recipe To Dessert Recipes

Return To Cooking New Orleans Style