Create Refreshing Beverages!
Wake up to the aroma of beverages such as café au lait or kick up the tea when serving rum tea punch!
Hot or cold, alcoholic or non-alcoholic, find your favorite here!
Louisiana Rum Tea Punch Recipe
Ingredients

1 - 12 ounce can Canada Dry Ginger Ale
1 - 6 ounce can pineapple juice
2 1/2 cups Lipton Ice Tea Mix with Lemon (sweetened), do not add water
Coconut Rum to Taste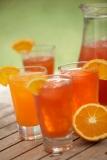 Directions
Mix all ingredients (except rum) in a gallon container. Fill 3/4 full with water. Add rum. Add ice.
Makes a gallon of delicious rum punch.
Tip
Omit the rum. Punch is still great!



See what other drinks Granny Boutte recommends!
---
Cold Drinks

Slush Drink Recipes


Try these Slush Drink Recipes. They are frozen icees for the over 21 crowd!

Holiday Raspberry Punch


This raspberry punch recipe is a crowd pleaser, and not just for the holidays!

Hot Drinks

Cafe Au Lait


Cafe Au Lait is easily made at home. We can not give you the ambience of the French Quarter, but we can give you the flavor!

Eggnog


Holiday eggnog blends milk with the spices nutmeg, cinnamon, and/or allspice. A family tradition!

Return From Beverages To Cooking New Orleans Style