Shrimp Boil Recipe
Keep The Heads On!
A shrimp boil recipe is a New Orleans tradition. Cooking New Orleans Style requires a large pot, at the minimum an 8 quart pot for recipes like this one.
Unlike a crawfish boil, you can fix wonderful boiled shrimp in the kitchen in a very large pot,since there is considerably more shrimp meat per pound than crawfish tail meat per pound.
This recipe is quick and easy. Boiled shrimp makes a great appetizer with the cocktail sauce listed.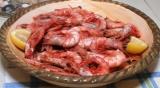 It is a nice prelude to any seafood meal. Try it before a having crawfish bread and a salad!
Around the holidays, make 2 batches of boiled shrimp, one for eating as is and the second to use in shrimp dips and shrimp salad.
Ingredients
4 quarts water
1 glove garlic
1 lemon cut in half
1 large onion, chopped coarsely
2 celery stalks, chopped coarsely
2 bay leaves
1 bag crab boil
2 tablespoons salt
1 teaspoon cayenne pepper
1 teaspoon black pepper
4 pounds unpeeled fresh shrimp
Directions
Fill a large pot with water.
Squeeze lemons into water and add garlic, celery, bay leaves, crab boil, salt, and peppers to pot.
Bring to a boil and let seasonings blend for about 2-4 minutes.
Add shrimp, return to a boil, cook for 2-3 minutes only! Just until shrimp turns pink. Do not overcook.
Drain cooking liquid from shrimp.
Dump shrimp on platter.
While shrimp are cooling. Make a cocktail sauce for dipping.
Cocktail Sauce
1 cup ketchup - I only use Heinz
1/4 cup lemon juice
1/2 cup horseradish
Hot sauce to taste
You can make 2 versions of this sauce, mild or hot, by varying the amount of hot sauce. Two drops of hot sauce for a cup of ketchup is mild, but with a kick.
Combine all ingredients and you are ready to go.
Enjoy!
Tips
Keeping the heads on gives the dish more flavor.
Plan on 1/2 to 1 pound per person. In my family, the number is closer to 1 pound.
This also depends on what you have with it. Normally, our shrimp boil is the appetizer to a wonderful seafood dinner.
If you liked this Shrimp Boil recipe, look here for other free seafood recipes!

Return from Shrimp Boil Recipe to Cooking New Orleans Style