Bread Pudding Recipes with Whiskey Sauce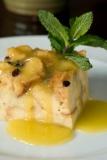 Bread Pudding Recipes can vary. But this one with whiskey sauce is a must have dessert, just like visiting a New Orleans restaurant!
Ingredients
6 - 8 cups stale bread, broken in cubes
1 can evaporated milk
2 cups sugar
8 tablespoons butter, melted
3 eggs
2 tablespoons vanilla
1 large can fruit cocktail
¾ can condensed milk
1 teaspoon nutmeg
1 cup raisins
Whiskey Sauce
½ stick butter
1 egg yolk
1 teaspoon whiskey, bourbon works!
1½ cups confectionary sugar
Directions
Combine milks, butter, eggs, vanilla, sugar, nutmeg. Fold in bread and stir. Mixture should be very moist.
Add fruit cocktail and raisins. Mix well.
Pour mixture into a 9x13 baking pan.
Bake at 350 degrees approximately 1 hour or until top is golden brown.
Whiskey Sauce
Cream butter and sugar over medium heat until all butter is melted.
Remove from heat and blend in egg.
Pour in whiskey gradually to your taste, stirring constantly.
Sauce will thicken as it cools.
Serve warm over pudding.
Variations
You can leave out the raisins. Try adding blueberries, peaches, or apples.


Return From Bread Pudding Recipes To Cooking New Orleans Style