Shrimp Jambalaya Recipe
Jambalaya, Crawfish Pie, File Gumbo
Me Oh, My Oh!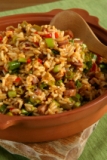 A shrimp jambalaya recipe is a highly seasoned rice dish that is a staple in Cajun or Creole cooking. A jambalaya recipe is as varied as the cook who prepares it! Granny's version is a typical New Orleans style utilizing tomato sauce. Cajun style is prepared with a brown roux base.
It is interesting that some references state that jambalaya is derived from the Spanish jamon, for ham. Others state that it is derived from the French jambon, meaning ham. Most agree that ya-ya stems from African for rice.
Gonzales, Louisiana is the self-proclaimed jambalaya capitol of the world. Gonzales hosts the fiercely competitive Jambalaya Festival and World Championship Cooking contest annually.
The headline refers to Hank Williams' famous Jamabalaya song that features "Jambalaya and Crawfish Pie and File Gumbo" in the refrain!
Granny Boutte's Shrimp Jambalaya Recipe
Ingredients
1 package jambalaya mix - Tony Chachere or Zatarain are excellent
½ onion, finely chopped
¼ green bell pepper, finely chopped
2 stalks celery, finely chopped
6 cloves garlic, finely chopped
½ pound ground beef
½ pound ham seasoning, diced
1½ pounds shrimp, peeled and deveined
1 pound smoked sausage
2 tablespoons tomato sauce
1 tablespoon parsley
2½ cups water
Tony Chachere's to taste
Directions
Slice smoked sausage (¼ inch). Dice ham seasoning. This can be ham steak. Microwave ham and smoked sausage. Pour off fat. Brown ground beef with onion, bell pepper, celery and garlic. Pour off fat.
In a large pot, combine ground beef mixture, smoked sausage and ham. Add water, dry jambalaya mix and tomato sauce. Mix thoroughly. Bring to boil.
Add raw shrimp and reduce heat to simmer. Cover pot and cook approximately 25 minutes. When rice is soft and all water has evaporated, it is ready!
Remove from heat. Add parsley. Let stand covered for an additional 10 minutes.
Tips
Substitute diced cooked chicken instead of shrimp.
Add diced cooked chicken.
Substitute smoked turkey for ham.
Read the instructions on the jambalaya mix. The amount of water or cooking time could vary slightly.
Cook with a heavy cast iron or aluminum pot to prevent the rice from burning.
If you liked this jambalaya recipe, look here for other delicious free recipes!

Return From Shrimp Jambalaya Recipe To Cooking New Orleans Style